Dyescape - Where Adventures Begin
A unique Minecraft MMORPG experience featuring a vibrant fantasy world to explore, fight, and make friends in.
Dear fellow soon™-to-be Eturians,
One may ask, what has been happening? Well, the answer is quite simple! We have been working hard! For those who do not know us yet. We are creating an MMORPG in Minecraft. We have been doing it for the past two years and hopefully, we are nearing an alpha release.​
If you want to stay up to date in real-time, know where we are at with development, please consider
joining our discord!

The first release of our server will be a closed alpha release. Please
sign up here
, so you do not miss out!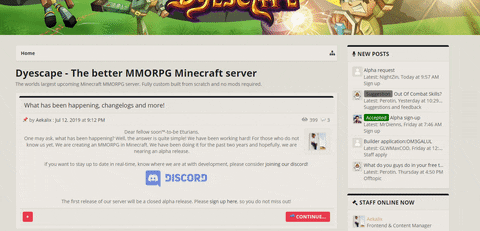 ​
Hello, this is the thread to participate in the Instagram giveaway!
If you have not read our post on our discord server then shame on you! You can, however, still read it here:
"Dear people, I am a messenger from far far away! I sailed the Blue Graveyard and visited every island along my way to tell you that my beloved king has a something to announce.
I am delighted to announce that after recent fame has fallen upon us we will be giving out wealth. Thou who wins the contest will be given so much gold and silver that they will immediately gain the wealth status of a true nobleman!
But thou may ask where is the contest? What is it? And how can I participate? Well my eager citizens we should first off declare the importance of who can participate! Your king, is a generous king. He is loved by many and hated by none. Not just because he is handsome but because he is kind and someone who favours honour and justice above all. Hence he allows all players and workers to enrol in the contest!
Where is it? At your local forums supposedly hosted on the World Wide Web. What do you need to do? I mentioned before the glory and fame my King and his household recently received through the
use of communal forums known as Instagram
. But we have predicted an end to the continuous fame. The 25th of June at exactly 17:11 GMT+1 (5:11PM). The administrators of the King can sometimes be a tad lazy hence he is calling upon all I can find to help him work this problem out.
The problem? He needs an estimate of the likes how much likes he will receive on all of the races out there and he needs you for that!
Quickly put on your sandals or even run bare feet to the forums of Dyescape! Comment your estimate on the linked billboard post and the one that comes the closest will receive a reward.
Your time to shine has come! Go! Quickly!
Regards,
Your beloved King"
You have not joined our Discord yet? Even more shame on you! Head over to
our discord and join
immediately! We post regular DevLogs there and sneak-peeks into our game. You even have direct contact with the Dyescape Team! Hope to see you there!
If you forgot already: post your estimate of the final like count of
this Instagram post
on this thread (as the ad ends 17:11 / 5:11PMGMT+1 25th of June) and hopefully win a lovely Noble rank!
Rules:
- 1 post per person (your first one counts and no alt accounts.)
- You need to post it on this thread.
- Alt accounts are not allowed
- Everyone can participate*
-
You don't have to follow / like our Instagram but it would be highly appreciated if you did!
- You can enter till 3 am (GMT+1) (25th of June 2019)
- The person that has the closest number wins!
- Winner gets picked exactly at 5:11 PM GMT+1 on 25th of June!
*If you win the giveaway and you already have a rank of Noble or above you can give it away to anyone. This needs to be done within 24 hours of winning the contest.
Thank you for participating!
And now, a thank you from us. We truly appreciate you all being here and supporting us throughout this journey. The development of Dyescape definitely has ups and downs but we're trying our absolute best and we will be fighting through till the bitter end. Sometimes I cannot believe what an amazing community you all have become. We really hope that you can hold a little while longer till Alpha. We really appreciate everyone single one of you and motivating us all to work harder and harder. Cheers to some spectacular times ahead!
- The Dyescape Team
Dyescape will soonTM reach alpha stages. This stage is closed and you need to sign up to be able to enter. Please head over to the Alpha Signups and sign up now!
Dear community,
It's been a while since we had a positive announcement (other than the glorious mousepad giveaway), but today is a great day for us. No no no, hold your horses, Alpha is not here yet. I'm sorry to crush your hopes and dreams like this already. However, I'm very pleased to announce that we're getting some massive help on the development side. We are expanding the backend team (the nerd team) with not 1, not 2, but 3 new people! Please give a heart warming welcome to
@MiniDigger
,
@MisterErwin
and
@Michael
!
@MiniDigger
will be helping me out create more Minecraft plugins. His first job will be something that you're all gonna love; guilds! It's not an easy plugin, but if he's joining the team it means that we can deliver this feature a lot sooner to you guys than originally expected. He already fixed 1 bug in less than 2 hours after I gave him first access, so I have good hopes there.
@MisterErwin
will be helping us out with creating some more advanced software unrelated to Minecraft. His first job will massively help us straight away when we go live in Alpha. He's going to work on an application that allows us to massively keep statistics of everything that happens in our game. We can use it greatly for balancing purposes as it will give is a very clear eye on what exactly is happening, even if we have hundreds or thousands of players. It is also confirmed that he likes pine apple pizza.
@Michael
is a system administrator who's going to help me build a new development environment as well as production environment to host our game on. As some of you can probably imagine, Dyescape is a fairly complex project, and our network is no exception, hence why having a dedicated person for this special job could massively help out.
Last but not least,
@Astantos
is currently taking a few steps back from being content manager and join as a regular content team member. Due to some personal reasons & the overall time he says he's able to invest in the project, we all came to the conclusion that it would be better for someone else to take over for the time being.
@Aekalix
will be using his iron fist to take the content team so the next level and structure the team in the most efficient way so we can deliver our project as soon as possible.
I'd also like to massively thank everyone who's here in the Discord. The community is still growing every day and we really appreciate the support we are getting lately, we are getting close!
Thanks to each and everyone of you for being with us!
Hello, fellow soon™-to-be Eturians,
I am here with a little announcement - a positive one! No, no. No delay, sorry. I just could not resist it.
But, with that little prank aside, Dyescape has been growing day by day. Either with new team members that actively develope Dyescape or the incredible discord member growth. We are currently at a grand total of 338 members and I find that amazing. The daily activity motivates us more than you probably realise and Dyescape management would like to express our thanks through a giveaway!
We are giving away 3 mousepads.
The only thing you have to do to participate is to leave your favourite Dyescape meme in a reply to this thread. Hint; visit our
reddit page
(click 'Reddit')! It is stocked with the most creative
/s
memes! Everybody can participate (including Dyescape staff)!
Note: This is not a meme contest, any dyescape related meme has the same odds in winning. So, just pick one you like!
We pick the winners 14th or 15th of July 2018, when I come home. Whenever that is, then that time.
We have come up with a few designs, just open the spoiler and they should pop right up. If you win, you can pick one of those four. It will be shipped right to your doorstep. Yes, worldwide shipping!


Mousepad:
* 9.25" x 7.75" (23.5 x 19.7cm)
* Has a neoprene rubber non-slip backing
* 1/8" thick (0.3175 cm)
* Aeky's seal of approval (I have been using such a mousepad for approx 2 years)
Some obvious disclaimers but read them anyway:
No NSFW stuff and all that. Memes should follow our rules and guidelines.
Do not ruin the giveaway spirit!
No duplicate winners. Sorry! One mousepad per winner.
May the odds be ever in your favor! Happy participating!
Regards,
Aeky
People who are active in our Discord server have already heard the news a few days ago, but we have not posted it here on our website yet. As you might have seen: the alpha has not launched yet. This is simply because we are still behind on schedule in terms of content. Backend (plugins) is roughly on schedule while frontend (buildings & terrain) are even ahead of schedule. The pre alpha has been delayed several times now and it won't be the last one. We apologize for this, but it's reality, and we can't make it any better. We are trying our hardest to get the pre alpha open as soon as possible, but we cannot launch an incomplete game. Our apologies for this.
Note that applications for the content team are still open. Please send some of your work to
[email protected]
as we are always looking to expand the team with high quality people.
When is the new deadline for the alpha? For the sake of letting this project run smoothly; there isn't one for a while. The problem of Dyescape development at the moment is that some parts of the server (mainly content) are still extremely hard to schedule. This causes us to keep setting deadlines that we hope to reach, but realistically speaking simply can't. This is what causes the delays. Delays are not caused by issues during development, or development simply stopping for days. In fact, development is not slowing down and it's only speeding up more and more. We are working faster and more efficient every day, just scheduling is our problem at the moment.
No the alpha will not open any soon, but at least the good news is that development is not struck by it. It's just because of the fact that we have an extremely hard time scheduling some parts of the server. Hence from now on the alpha is delayed until further notice. We will not set any deadline anytime soon so the team can simply work on quality results without having to stress about unrealistic deadlines. We encourage everyone interested in the project to join our Discord server as we are very active on it. We post small development updates almost daily about what we have done, what we are focusing on and what we have achieved.
These delays also have some good news though. The alpha is delayed due to content, this however does not mean the other parts of the server are not on schedule. Due to the frontend (buildings & terrain) being ahead of schedule, we can actually release new parts of the map faster after we launch alpha. The backend (plugin) team now also has more time to start developing plugins that were originally out of scope for initial launch, such as dungeons & bossrooms.
These news messages don't show Dyescape's true bright side, nor do they show what we are capable of. Please do not judge our project based on the information you see on this website. Join our Discord server, interact with the community, see our development log channel and talk to the actual team behind it.